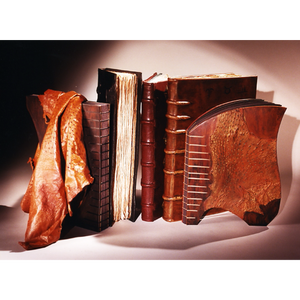 Book Restoration Services
Established in 1996, Ars Libri Book Restoration Studio specializes in the rare services of designer hand bookbinding, book and document restoration, and deacidification. The Studio serves book collectors as well as individual customers who want to restore old family Bibles, documents or leather bind their favourite book. Based in Kingston, Ontario, we work with customers from all over North America and have built a reputation for excellence. Find out more about how to get an estimate or work with us remotely.

Learn More
Designer Leather Work
All items are handmade using the same high-quality Italian leather used for book restoration and hand binding. Find the perfect gift for someone you love or work with us to design something that is entirely your own. Browse handsewn leather journals, bags, hats, wallets, belts, bracelets, and other small items. Or, contact the studio for custom orders.
Buy Now